ELOKON: Trusted by multinational customers around the world
Cloud-based Platform
Why you should choose
a web portal solution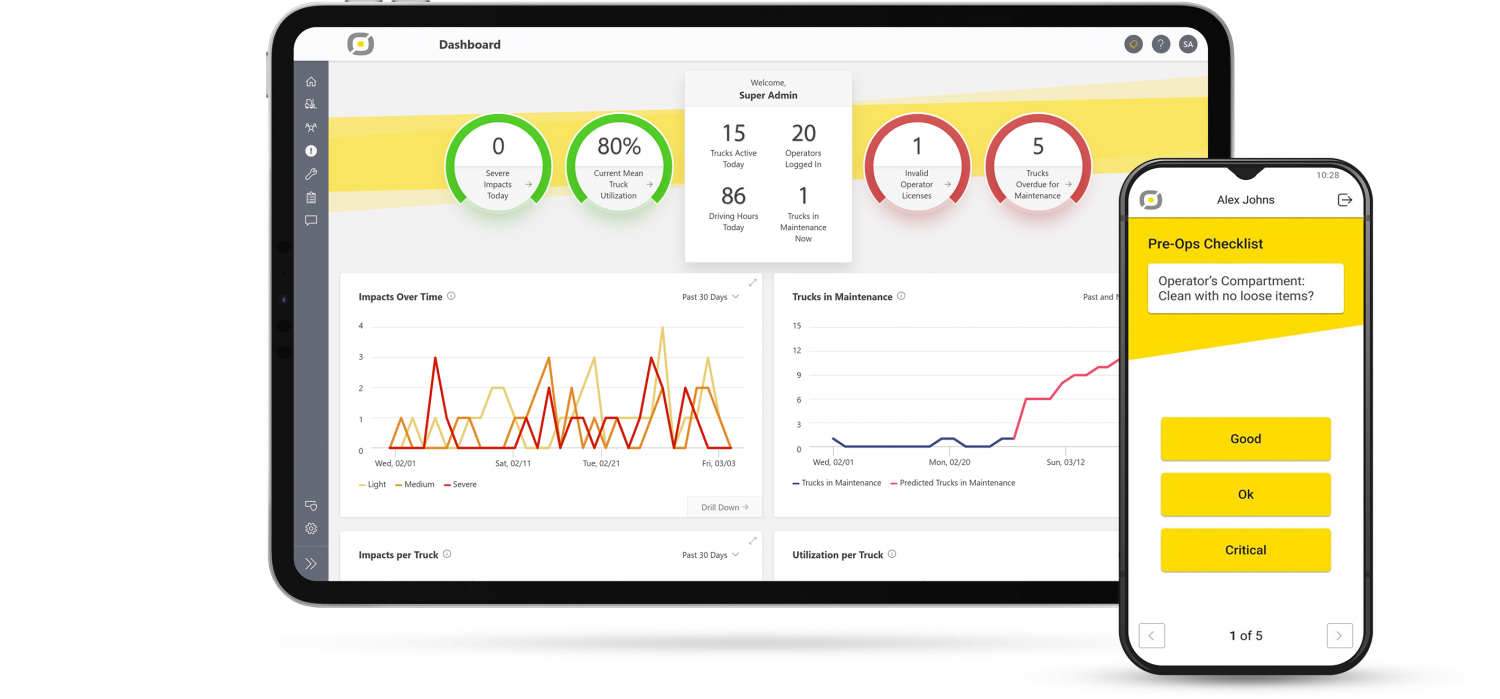 Implement and scale your project fast, from pilot to rollout.
Switch instantly and seamlessly between applications and sites.
Access the platform on your PC, notebook, tablet, or smartphone — from anywhere, at any time, in your language.
Automatically import data from third-party fleet management or proximity detection systems (contact us about your options).
Compare fleet data between departments, vehicle groups, or sites across the world.
Deploy system and feature updates over the air, with no downtime during business hours.
Manage all your material handling assets, globally, in one convenient place.
Hosting off-premises means you have low (or no) infrastructure hardware costs.
Enjoy the highest security and backup standards from leading cloud service providers.
Choose your own subdomain name to match your company name.
Customize your front-end design to match your corporate identity.
Add functionality seamlessly as the web portal grows with new features and functions.
Benefits
More Productivity and Safety with our MHE Platform
Improve Fleet Productivity
Our forklift fleet management solution includes RFID access control, impact recording and alerting, productivity analysis and benchmarking, and preventive maintenance alerts. Act on all this data in our cloud portal to right-size your fleet.
Reduce and Prevent
Workplace Safety Violations
Our forklift safety system prevents truck-to-truck and truck-to-pedestrian collisions. The system also has a zoning option for high-risk/high-traffic areas. Analyze all the collision-avoidance data in our cloud portal to improve your safety culture.
Have all information
at your fingertips
Manage all your MHE asset data online, digitally, in one place. Do away with spreadsheets and separate software systems that don't communicate across their silos.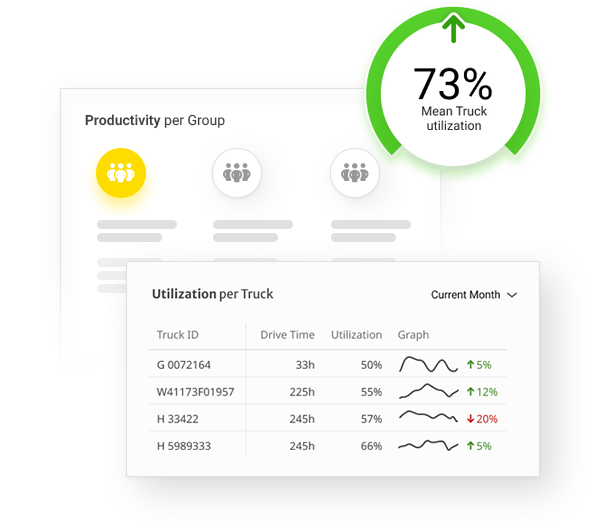 Reduce servicing
and spare parts costs
Our forklift fleet management solution includes impact sensing and alerting, pre-op safety checklist reporting, preventative maintenance alerts, and more to help you drive down the cost of maintaining and repairing your MHE assets.
Ready to get started?
We'd love to help you improve MHE safety and fleet productivity at your worksites
Call us at +1.678.293.4089 (US) or +49 4122 57900 (EU) or email us at hello@elofleet.com
Pricing
Get started!
Contact us for a custom quote. Pricing depends on how many ELOKON solutions you choose to manage on ELOfleet.com. As an example, the price of the ELOfleet MHE fleet management system typically ranges from $2 to $3 (€2 to €3) per truck per day — all in.
We can also assist you by tailoring a return-on-investment (ROI) calculation for your operation. Our ROI calculator is based on extensive market cost data, and we are happy to give you the analysis in an editable format, to make it easy for you to discuss and present internally.
Pricing depends on:
Number of trucks you want to equip
Number and type of functions you want deploy
Number of sites (or a multisite) you want to cover
Custom options, such as an API integration
Contact us today!
Call or email us today to get your custom price quote, to start an ROI calculation, or to ask questions about forklift telematics and fleet management.
We have decades of experience in this field, deep expertise, and we'd be happy to support you and your project.
Book a Demo
We can demonstrate our solutions to you in two ways:
We can schedule a Microsoft Teams session to demonstrate our cloud portal software for you.
We can arrange an onsite visit to demonstrate our hardware and software for you.
After the demo, we would like to define a proof-of-concept or pilot project with you.